Benefits of Chiropractic Care During Pregnancy
During pregnancy, many women feel uncomfortable or experience pain. Chiropractic care can make your pregnancy healthier and easier. At Elan Wellness Center, our chiropractor provides prenatal chiropractic care. Serving Tampa, Westchase, Town & Country, Oldsmar, Citrus Park, and Odesa, FL, we will work to alleviate your pain during pregnancy using natural, safe techniques. Here are just some of the benefits of chiropractic care during pregnancy.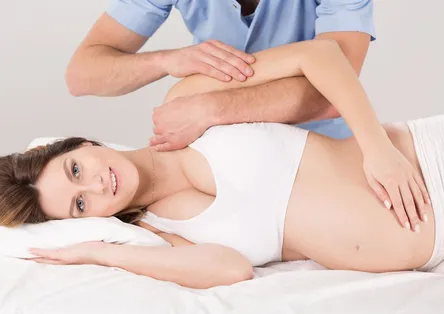 Back Pain Relief
Chiropractic adjustments can relieve back pain during pregnancy. It can also improve spinal stability, loosen your ligaments, reduce joint inflammation, and prevent arching of your back. Our chiropractor performs the steps necessary to ensure that your back bears the weight of your pregnancy more evenly.
Pelvic Balance
For many pregnant women, chiropractic care improves the balance of the pelvis and hips. This can help the baby move into a healthy birthing position. Adjustments also relieve pressure on the pelvis and work to achieve a smoother delivery.
Nausea Relief
If you have persistent morning sickness, some lifestyle changes can help you reduce nausea and vomiting. Our chiropractor may also assess your spinal and pelvic alignment to reduce strain on your body. We provide alignment and tension relief in addition to massage therapy and other alternative treatments.
Injury Prevention
Massage therapy and chiropractic care can improve your flexibility and range of motion, helping you avoid injuries in your pregnancy. Your ligaments and tendons need to have more flexibility so that they do not pop out of place when you are trying to move with the many changes to your body.
Improved Sleep
You can also get better sleep by working on your alignment. When you have improved sleeping posture, you don't toss and turn so much. Improved sleep quality can also improve your alert hours. Our chiropractor can provide you with help related to ergonomics, massage, and tension relief for better sleep.
Visit Our Chiropractor in Tampa, FL for Prenatal Chiropractic Care
When you are pregnant, you may not have much time to get comfortable. It is important to work with a professional who understands pregnancy and the pain you may be experiencing. At Elan Wellness Center, our chiropractor will help you reach your wellness goals while also alleviating your pain. We treat patients in Oldsmar, Citrus Park, Odesa, Town & Country, Westchase, and Tampa, FL. Our team is happy to answer any questions you have. Call us today to schedule an appointment.